I was privileged to moderate a poetry event focused on voices of those who have felt the impact of breast cancer. There was undeniable power in the room.  Varied and unexpected poets took the stage: surgeons, healthcare providers, survivors, and our families. If you've ever doubted that a few words written in free verse or a prose paragraph with a little humor could open us to a world of emotional experience that many of us don't talk about in our daily lives, this simple exercise would change your mind; in any given moment, we are all broken, grieving, surviving, defiant, rebellious, sentimental,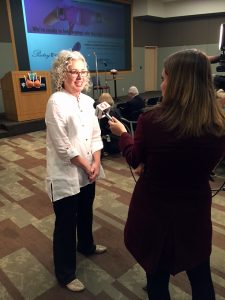 terrified, grateful, invincible, loving, and vulnerable.
Yes, the event fell under the umbrella of breast cancer awareness month, but it's so much more than pink ribbons. Most of us are already very much aware. Now, we need action, not just rubber bracelets. We can do better. So, get yourself checked out. Call your doctor. Have an exam. And, talk to the women in your life. Are they taking care of themselves? Early detection is everything.
The event received some news coverage.